Adeline: A Novel of Virginia Woolf
Author: Norah Vincent
Publisher: Houghton Mifflin Harcourt
Publication Date: April 2nd 2015
On April 18, 1941, twenty-two days after Virginia Woolf went for a walk near her weekend house in Sussex and never returned, her body was reclaimed from the River Ouse. Norah Vincent's Adeline reimagines the events that brought Woolf to the riverbank, offering us a denouement worthy of it's protagonist.
With poetic precision and psychological acuity, Vincent channels Virginia and leonard Woolf, T.S. Aand Vivienne Eliot, Lytton Strachey and Dora Carrington, laying bare their genius and their blind spots, their achievements and their failings, from the inside out. And haunting every page is Adeline, the name given to Virginia Stephen at birth, which becomes the source of Virginia's greatest consolation, and her greatest torment.
Bittersweet
Author: Miranda Beverly-Whitemore
Publisher: Broadway Books
Publication Date: May 13, 2014
On scholarship at a prestigious East Coast college, ordinary Mabel Dagmar is surprised to befriend her roommate, the beautiful, wild, blue-blooded Genervra Winslow. Ev invites Mabel to spend the summer at Bittersweet, her cottage on the Vermont estate where her family has been holding court for more than a century; it's the kind of place where children twirl sparklers across the lawn during cocktail hour. Mabel falls in love with midnight skinny-dipping, the wet dog smell that lingers near the yachts, and the moneyed laughter that carries across the still lake while fireworks burst overhead. Before she knows it, she has everything she's ever wanted: friendship, a boyfriend, access to wealth, and, most of all, for the first time in her life, the sense that she belongs.
But as Mabel becomes an insider, a terrible discovery leads to shocking violence and reveals what the Winslows may have done to keep their power intact - and what they might do to anyone who threatens them. Mabel must choose: either expose the ugliness surrounding her and face expulsion from paradise, or keep the family's dark secrets and make Ev's world her own.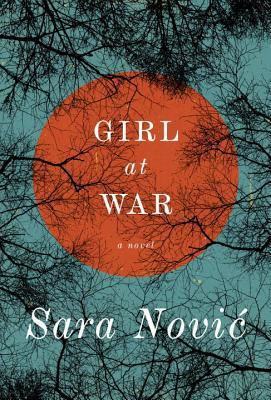 Girl at War
Author: Sara Novic
Publisher: Random House
Publication Date: May 12th 2015
Zagreb, summer of 1991. Ten year old Ana Juric is carefree tomboy who runs the streets of Croatia's capital with her best friend, Luka, takes care of her baby sister, Rahela, and idolizes her father. But as a civil war breaks out across Yugoslavia, soccer games and school lessons are supplanted by sniper fire and air raid drills. When tragedy suddenly strikes, Ana is lost a world of guerilla warfare and child soldiers; a daring escape plan to America becomes her only chance for survival.
Ten years later Ana is a college student in New York. She's been hiding her past from her boyfriend, her friends, and most especially herself. Haunted by the events that forever changed her family, she returns alone to Croatia, where she must rediscover the place that was once her home and search for the ghosts of those she's lost.